[Insert some mumblings about how blogging-tardy I've been recently, and something about this horrendous weather we've had recently.]
And lo! My recent favourite sightings from around 'tinterweb below, and underneath that, some ramblings about what I've been up to this past fortnight.

*Hard back, via Le Dans La*

*Woven armoury, via Garance Dore via Gin and Milk via English Muse*

*Post-its, via Susanna Vento via From Scandinavia With Love*

*Black Smeg, via Fashion For Home via Interiors Porn*

*Moscow mail, via Present & Correct*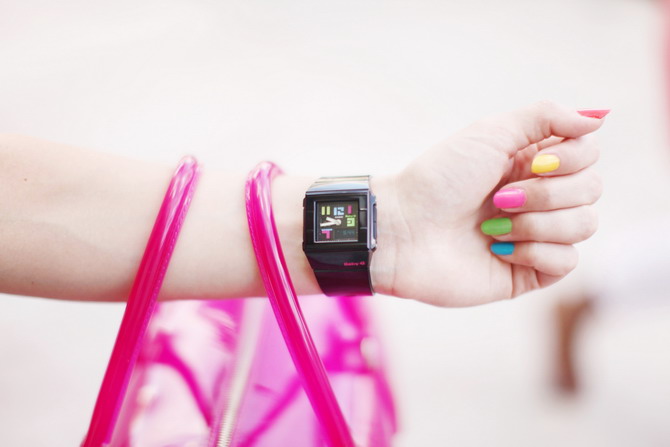 *Candy coated time, via Cherry Blossom Girl*

*Patterned tab, via The Hungry Workshop via The Design Files via The Aviary*

*Boxed dreams, via Susanna Vento via From Scandinavia With Love*

*Osmosis, Andrea Dusk via 13 Little Secrets via Et Horn av Eden via Veronica Loves Archie*

*Trees and trunks, via Heidi Lender via Reelinki*

*Bowl hats, via Susanna Vento via From Scandinavia With Love*

*White rabbit, via See Scotty via What Katie Does*
Snippets of my social diary, so I can gaze back at this blawg when I'm 92 and nod my head sagely because I simply can't believe I forgot about that one time I…
With el husbundo in Milan for their annual furniture fair, and then the Cotswolds for a Mini Roadster thing, I felt rather guilty leaving poor Effie-cat by herself, as I hopped over to Seattle for five days for a work trip. But you can hardly blame me for wanting to check out the birthplace of grunge (well, Nirvana) and coffee (well, Starbucks), not to mention hearing what HTC had to say for themselves.
It was a great city, perfectly accessible by foot (though I did catch a bus at one point!), and thankfully the rainclouds parted in time for the weekend, so I had two days of beautiful sunrays creeping across my skin. More on Seattle later, in a dedicated post, of course.
Hightailing it back to the office "fresh" off a nine hour flight wasn't the best ending I could've hoped for, but that's life, I suppose. A few unremarkable days later, and I was participating in Friday night Shoreditch highjinks with Kam and Petah, at various boozing establishments including the Mayor of Scaredy Cat.
I'd like to blame the lingering jetlag on my 13-hour lie-in on Saturday, but that's probably fibbing. Nonetheless, it was a slovenly day of watching Roman Holiday in bed on the iPad, as I fiddled about with my blog. 7pm saw me dragging on my jeans though, to head over to Brixton Village for an okonomiyaki at Okan (which I was crushing-upon only last month), and then onto the newly-opened Market House pub in Brixton, which felt more like a club at one point. Jim, Tasha, Salome, Otis and his new boyfriend Seb kept me laughing all night long, as did the various random locals we met / danced with. I love how friendly and engaging Brixtonians are — it's like there's this unwritten law that you must share your lipstick with a girl in the loos (then she must invite you and your mates to hop across to another pub nearby with them), or you must promise to dance every Saturday night away with the drunk Asian girl at the same spot every week.
Sunday — today — saw the inaugural meeting of the School For Teen Girls Who Can't Self-Esteem So Good (that's, err, a working title thanks to Iso), which was set up by Iso, Sarah and a few others with the aim of mentoring teenage girls (and hopefully, at a later date, boys) and improving their self-confidence and other things. We're very much in the planning stage, but today, 11 enthused 20-and-30-something girls met and sketched out what promises to be something really inspiring and exciting for all. If you fancy being involved in some way, shape or form, definitely get in touch with one of us.